Top Tips for Beautiful Curls This Summer from Afrotherapy Hairdressing Salon, Edmonton, London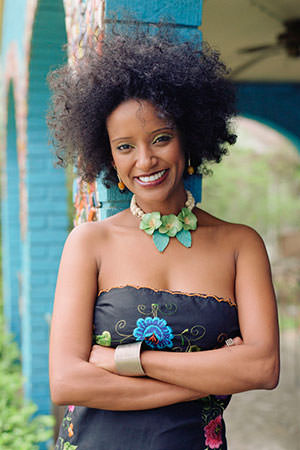 Want beautiful healthy curls this summer? If so, it's a good idea to prepare in advance, long before the summer heat begins to frizz out your beautiful curls. Here are some important tips on maintaining your curls this summer. This guide is brought to you by the professional hair stylists at Afrotherapy hair salon in North london, experts in afro and multi-textured curly hair.
Prevent Damage with Protective Styling
Taking proper care of hair moisture during summer is paramount, as the weather changes from day to day.
On days where humidity is higher, you will want to keep the extra moisture in the air out of your hair, as this can cause afro hair to frizz. On the dryer days, you will want to retain moisture in order to prevent dryness and breakage. This may cause confusion on the best way to style your hair from day to day.
The best way you can ensure your hair is protected is to wear it in a protective style such braids or twists. This will ensure that the right amount of moisture will stay locked in your hair to keep your afro hair healthy, moisturised and frizz free.
Protective styles are great, as they can also be worn out if you want to let your hair down and have fun later at night.
Get A Deep Conditioning Treatment at Afrotherapy Hair Salon
Is your hair constantly feeling dry? Does it frizz and further dry out during the summer months? If so, consider a protein rich deep conditioning treatment.
Deep conditioning is a must if you have porous and coarse curls and you wouldn't want to lose the moisture you have put in effort to maintain since winter.
The Afrotherapy deep conditioning treatment is a moisturising and conditioning treatment for afro hair, designed to infuse the hair with moisture, leaving it soft and manageable.
With prices for additional treatment services from £15.00, complete your salon experience and treat your hair to a relaxing, rejuvenating treatment from our extensive menu at your next appointment at our London Hair Salon, Afrotherapy. To find out more about our hair treatments visit here or give us a call on 020 8345 5621.
Drink Lots of Water
Water is well known to do wonders for the skin, however, little do we know on how beneficial it is for keeping our hair healthy.
Water hydrates the body and helps to regulate the circulatory system, which feeds the hair follicle. Well fed hair follicles help to stimulate hair growth and strengthen hair.
If your hair roots are deficient in adequate water levels, your tresses will eventually become dry, brittle and could potentially stop growing. The NHS recommends drinking 8 glasses of water daily for an overall healthier lifestyle.
Retain Moisture On Afro Hair With A Hydrating Hair Treatment
Moisture is vital if you want your hair hydrated and moisturised all the time. In the case of frizz emergencies, we recommend keeping a leave in moisturiser in your handbag.
However, for maximum moisture retention, our Moisturfusion Ultra Hydrating System helps restore and bind moisture to the hair with four high-performance relaxer formulas. Created to work in synergy, each formula targets specific layers of the hair to instantly replenish moisture, add silkiness and improve manageability from the inside out.
Other treatments such as our Au Naturel Treatment can also aid with moisture retention. It is a customised blend of moisture, protein and oils which revitalise natural hair. Protein is essential as it helps to repair damaged or weakened parts of the hair, resulting in a reduction of frizz and a smoother appearance.
Avoid Dry Hair & Breakage With An Anti Breakage Treatment for Afro Hair
Dry ends are a common problem for people with curly hair and afro hair. Dry ends are also the major cause of damage to curly and afro hair types due to the constant brushing of the ends of the hair on clothing.
It is easy to handle dry ends as they can simply be trimmed off. However, the same cannot be said of dry roots, as you cannot trim off your root, which makes dealing with dry roots a difficult task.
Our Scalp Care Treatment is a soothing treatment for relieving dry or itchy scalp. This service is designed for clients with moderate to severe scalp problems and has been developed to regulate problematic scalps and promote healthy looking hair.
For a more personalised treatment, the Afrotherapy Custom Blend Treatment is a customised treatment for dry or breaking afro hair which can help strengthen and protect hair in the long run.
If you want a treatment for moderate to severely damaged afro hair, our Renew Strength Treatment will help. This is a 3-step customised treatment for clients needing a customisable system to help reconstruct weak, damaged hair as well as increase the elasticity and strength of afro or multi textured hair.
Use Lighter Hair Products During Summer
The summer air comes with extra moisture and during the summer months, you may notice that the products you used during the winter season may start to feel heavy on your hair. When coupled with the excess sweating that occurs during summer, these heavier products can cause severe product build on the scalp.
Heavy oils and styling products are not ideal for your curls during summer, so we recommend opting for lighter products specially formulated for Afro and curly hair.
Additionally, a clarifying shampoo will do wonders If you want your hair free of residues that weigh it down. It can help clean up any leftover products used before applying conditioner to hair. You can find our range of branded shampoos to help care for afro and multi textured hair.
---