The Best Haircare Products for Afro, Mixed Race, Multi Textured Curly Hair from Afrotherapy
As specialist afro, multi-textured, mixed race and curly hairdressers at Afrotherapy – our specialist afro salon in London, we know the importance of great hair care for maintaining the vitality, condition and strength of afro hair. Our years of experience with afro hairdressing has enabled us to sample the vast majority of specialist afro hair products on the hair market. Following huge demand from our clients both locally, nationally and internationally we have partnered with leading afro, multi textured, mixed race and curly hair brands to stock and supply the best afro hair products in our online shop at www.Afrotherapy.com. You can purchase any of the brands stocked in Afrotherapy in person at our Edmonton salon or you can order online and benefit from *free next day delivery.
Afro Hair Care at Afrotherapy Salon, London
We are proud stockists of the following specialist afro haircare ranges;
CURLS – Created specifically for biracial/multiracial women and girls with naturally curly hair, CURLS is created with certified organic ingredients and hand pressed exotic oils. This hair care range is suitable for anyone with curly hair and includes products for adults, children and babies.
---
Design Essentials – Professional-quality at home haircare that aims to be a pure partner for you styling, cleansing, nourishing and revitalising needs. This will restore your hair to its natural beauty.
---
Ferm The Ferm brand incorporates products for curly, permed curly and natural curls. The maintenance range of products add shine, moisture and softened to the hair whilst also ensuring that your curly and wavy hairstyles are truly defined.
---
Jane Carter Solutions Beyonce's favourite haircare brand, Jane Carter Solutions aims to care for your hair, your skin and the planet with her range of internationally renowned natural hair care products. The full range is eco-friendly, vegan, hair colour safe, environmentally safe and never tested on animals.
---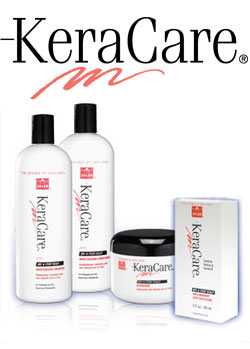 KeraCare KeraCare Conditioning HairCare System offers premium quality shampoos, conditioners and styling products designed to maintain todays hairstyles.
---
Mixed Chicks – The UK's leading name for hair products for multi-racial hair. Luxurious curls that last can be achieved with the help of Mixed Chicks, His Mix and Mixed Chicks Kids. So whether you're male, female, Black, White, young or old or any other glorious mixture you can define, you'll love the way these non-sticky, alcohol free and lightweight products detangle, condition, define your curls and lock in moisture at the same time.
---
Mizani – Part of the L'Oreal Professionnel family, Mizani's specifically formulated products for the hair and scalp have been developed for women of African descent. Rich in natural botanical ingredients, Mizani's unique formulas treat and nourish dry, rebellious and coarse hair types.
---
Moroccanoil – A real celebrity favourite, it is a must-have product for any women with any hair type. Enriched with Argan oil, this hair treatment contains minerals, antioxidants and vitamins to inject health, vitality and shine to your hair.
---
Phytospecific Containing Quinoa and sunflower oils, Hibiscus flowers and Barley Milk Llipe butters, Phytospecific caters for naturally curly, frizzy and relaxed hair types.
---
Tangle Teezer The original innovative detangling brush is a must for anyone with afro, curly and multi textured hair. Available in a range of unique colours and designs, plus specific detangling brushes to use in the shower, Tangle Teezer is a firm favourite for many of our clients. The unique design glides through the hair, eliminating tangles and knots on contact, minimising breaking, splitting and damage. Recommended for fragile or colour-treated hair, hair extensions, weaves & children's fine tangle-prone hair.
---
UniqOne A hair mask treatment, UniqOne offers ten firm benefits to hair with this all in one hair treatment for dry, damaged hair. It controls frizz and restores moisture to the hair for a shiny, glossy and healthy result. It provides heat protection, promotes silkiness and softness, stops hair colour fading and provides a level of UVA and UVB protection. Perfect for those who style with tongs, straighteners, hot brushes and heat tools.
---
FRO The natural hair care range from Evelyn range of haircare products. FRO are dedicated to providing you with 100% naturally derived ingredients that are safe and perfect for delicate afro and naturally curly hair types.
---
It's A Curl This curly hair care for babies is beautifully gentle and natural for your precious bundle. The organic baby curl hair care range contains no nasty chemicals, parabens or sulphate and is safe for the younger clients at Afrotherapy. The active organic botanical ingredients calm, sooth and smooth your precious baby's hair. *Minimum order value £50
---